The Romagna recipes at the table
The goodness of tasty and simple food
Our rich, genuine, tasty cuisine is based on the traditional recipes of Romagna.
From fresh egg pasta, with stuffing, to tagliatelle, our cuisine is made with passion and love... cooking in this ancient traditional way reminds us of a time when the kitchen was the heart and soul of the house and where great celebrations took place.
At both lunch and dinner there is a choice of a meat or fish menu, a buffet with hot and cold vegetables: always fresh seafood specialties, meat dishes and delicious desserts.
New and old flavours, a passion and love for our cuisine combine to create menus according the Romagnola recipes and the Mediterranean cuisine.
Romagnola evening... entertainment and traditional recipes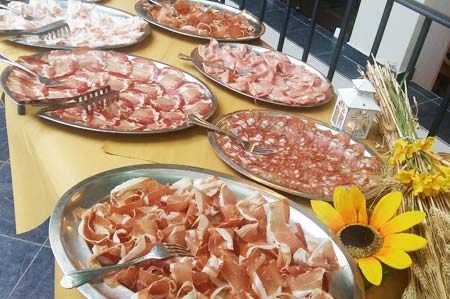 A holiday on the Riviera offers many surprises.
A Romagnola evening is an appointment not to be missed and gives you the chance to immerse yourself in the cheerful atmosphere while enjoying good food.
Let yourself be tempted by our colourful buffet, the atmosphere and traditional recipes: everything starts at the table where piadina is the focal point served with cold cuts and cheese... a lively, welcoming atmosphere, filled with smiles, friendliness, music and fun.
And for the children?
The simplicity of our cuisine is perfect for your children too.
Even the younger guests will look forward to sitting down at the table to enjoy our hotel's tasty dishes, after the fun and games in the hotel, swimming pool or on the beach.
And for mum and dad there is the possibility of flexible meal times, let your children eat first and then enjoy lunch or dinner in complete relaxation.
Sweet and savoury breakfast
The buffet breakfast welcomes you with sweet and savory dishes, homemade cakes, a variety of tasty jams, cornflakes, biscuits, seasonal fruit, cold cuts, bread rolls, crisp bread together with different drinks, milk, soya milk and freshly ground coffee ... a wonderful moment to let the aromas envelop you.
And on a perfect sunny day, enjoy your breakfast on the terrace.
We provide gluten free products on request.